Product Description
New from Aeotec, the Nano Dimmer is a very small Z-Wave Plus dimmer module which supports a range of lights and fittings including non-dimmable bulbs (when using 'on/off' mode).
Nano Dimmer is compatible with both leading edge and trailing edge dimming modes. Nano Dimmer is compatible with all certified Z-Wave gateways including SmartThings, Fibaro and Vera. It will also work with Amazon Alexa when used with an Alexa compatible hub or gateway.
Easy to install
Nano Dimmer lets you add new and existing lights to your Z-Wave system. It makes your lights smarter. It makes them responsive. It gives you the ability to control them, schedule, dim them and brighten them.
All that control and intelligence comes from simply wiring Nano Dimmer behind an existing wall switch.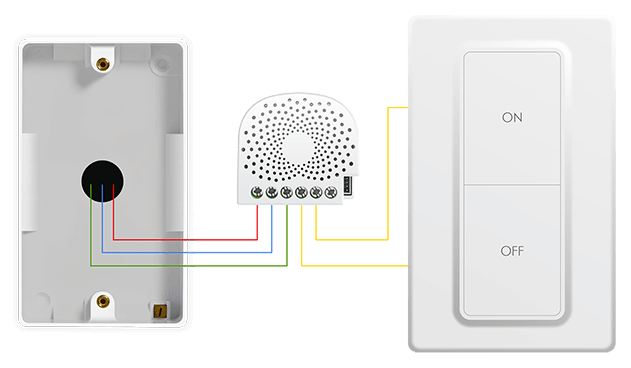 Neutral not required
Nano Dimmer isn't just better at lighting compatibility, it's better at wiring compatibility too.
Whether your lights are installed in a 2-wire or 3-wire system, Nano Dimmer is compatible. Lighting Engine auto-detects whether your light switches have a neutral wire or not, then automatically adjusts it settings.
Works with your existing light switch
Nano Dimmer has been designed to enhance your home, not to completely change it.
That is why it is been designed to work with most of the light switches typically found in homes, new or old. It installs invisibly behind them, enhancing their functionality instead of completely replacing it. Nano Dimmer can be connected to the following light switches;
Toggle switch
Rocker switch
Pull chain switch
Push button switch
Wall switch
Perfectly safe
Your lighting may be perfect, but that doesn't mean the electricity powering it is. Things happen. Surges happen and are common, and Nano Dimmer protects against them. With a in-built surge and overload protector, Nano Dimmer not only keeps your lighting connected it keeps them protected.
Technical Specs
Name: Nano Dimmer
Model number: ZW111
Power input: 120 to 240VAC, 50/60Hz.
Rated Current Output: 1.2A maximum
Rated Power Output: 144W maximum.
Repeater: Yes
Beaming: Yes
Minimum Power (Watt):
2-wire (no neutral)
Resistance load Only: min 20W.
3-wire (with neutral)
Capacitive load: min 11W.
Inductive load: no min / max 100W (Fan motors)
Resistance load: min 10W.
Rated output: Max 1.2A.
Max standby power: <0.8W.
Power measurement accuracy: + or - 3W.
Dimensions: 42.5 x 40 x 20 mm (1.7 x 1.6 x 0.8 in)
Operating temperature:
0℃ to 40℃
32℉ to 104℉.
Relative humidity: 8% to 80%.
Operating distance:
Up to 492 feet outdoors.
Up to 150 metres outdoors.
Supported Loads;
Control ability

Supported load types

With dimming function (On/Off/Dim control)

Incandescent bulbs,

Halogen bulbs with or without electronic transformer,

Dimmable LED bulbs (leading edge and trailing edge),

Dimmable Fluorescent lamps.

Without dimming function (On/Off control only)

Non-dimmable bulbs,

Compact fluorescent lamps with electronic rectifier,

Fluorescent tube lamps with electronic ballast,

LED Bulbs
Support Fan Motors / Inductive Loads under 100W (only while Nano Dimmer connected as a 3-wire device)
Find Similar Products by Category
Customers also viewed